The TCS News, the School's alumni magazine, is published twice yearly (winter and late spring) to keep alumni up to date on what is happening around the School and in the lives of their former classmates. Feature articles, alumni news, photo galleries, and the popular Class Notes and Milestones sections, help to ensure our alumni maintain a lifelong connection with the School on the Hill.
The latest issue of The TCS News, as well as select recent issues, are available to members of the BearTracks Network, the password-protected site for TCS alumni. To register/login to BearTracks, visit tcsbeartracks.ca.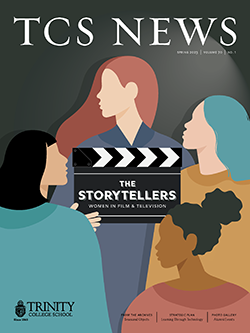 TCS News | Spring 2023 Issue
In the Spring 2023 Issue: Shining the spotlight on female alumni working in film & television; finding "something old, something new, something borrowed and something blue" in the archives; profiles of Chris Mack '90 and Curtis Mack '94; evolving technology and its impact on learning; meeting the leaders of our next fundraising campaign; and more.
To obtain a PDF copy of the magazine: If you have not joined the BearTracks Network and wish to receive a digital copy of the magazine, email alumni@tcs.on.ca with your request.
To join our mailing list or update your contact information: Email alumni@tcs.on.ca or update your profile on the BearTracks Network.
To submit a Class Note or Milestone: Email alumni@tcs.on.ca or reach out to your year chair through your class group on the BearTracks Network.
Note: If submitting a photo, please ensure it is high resolution (i.e. 500 kb or greater in size).