Trinity College School's challenging academic program over four years of high school emphasizes a liberal arts philosophy. Students are engaged equally in the arts and sciences during their first two years of study. In Grade 11 and 12, students begin to specialize and many take Advanced Placement courses.
Our Academic Vision
Trinity College School offers a broad and rigorous curriculum with the ability to concentrate studies in areas of personal interest. At TCS, education is collaborative, rich in discussion, and writing-intensive. We believe that learning is an active process that fosters habits of the heart and mind while challenging all students to communicate effectively and to think both critically and creatively.
Class sizes at TCS are small, ranging from 12 to 20 students and the student-teacher ratio is 8:1. This ensures that each student receives personal attention and the opportunity to develop positive relationships with their teachers. Academic assistance is offered daily and students may access the Price Academic Support Centre, as well as our Writing and Math Learning Centres.
The Senior School operates on an eight-day schedule with students having four courses a day. Students choose from more than 120 courses, most of which are year-long. In addition, we offer more than 20 Advanced Placement (AP) courses as well as the prestigious AP Capstone program.
TCS emphasizes learning through the use of information technology, with in-room access to the internet, email, online learning system (Edsby), SmartBoards and fully networked classrooms. Students and teachers use laptops for online research, classroom assignments and presentations and also benefit from an online learning system which allows communication and access to course information after school hours.
TCS prides itself on four great strengths in our academic program: our course of study or curriculum, our facilities, our schedule and our faculty.
---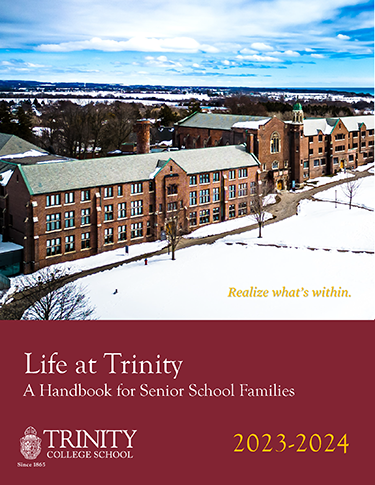 Life at Trinity: A Handbook for Senior School Families 2023-2024
Life at Trinity: A Handbook for Senior School Families is intended to assist families in understanding the daily routines, expectations, policies and procedures of TCS. There is a great deal of helpful and important information contained within its covers, including our daily routine, academic and co-curricular information, community standards and expectations, contact information and the TCS Honour Code...
Download
Senior School Course Calendar & Academic Policy Guide 2022-2023
The foundation of a successful partnership between parents, students and the School is built on clear expectations and communication. The Senior School Course Calendar and Academic Policy Guide details the full course of study available at TCS, as well as policies and procedures to help students get the most out of their academic time at the School...
Download