Gareth Jones Memorial Bursary Fundraising Progress
Goal: $100,000 | Funds Raised: $86,578 | Updated: 06/20/2023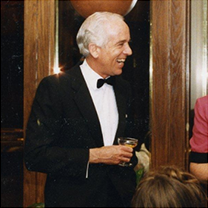 The definition of gentleman is "a man who is cultured, courteous, and well-educated." That describes many faculty members at TCS, but none more than Gareth Jones. We lost a true gentleman who touched so many lives when Gareth passed away in July 2020. Now, we would like to honour his memory by establishing the Gareth Jones Memorial Bursary.
Born in England in 1935, Gareth married Gillian in 1963 and they came to Canada shortly afterwards. After working a few years at TCS, they returned to England. But, as it does for so many, TCS had charmed itself into their lives, and they came back to Port Hope in 1970, staying until their retirement in 1998.
Over the years, Gareth served as the head of the math department as well as the assistant headmaster, director of studies, cricket and badminton coach, and was an avid TCS soccer fan. But more than that, he was a trusted colleague and a revered and caring educator. Anyone who knew him would agree that he was thoughtful and fair, including when carrying out discipline. He was incredibly devoted to his family, both at home and on campus, and had a great sense of humour.
Gareth truly cared about the faculty, and would do whatever he could to make their busy lives more manageable. When our daughter Dayna '08 was born, Gareth went out of his way to help us both continue to teach. He actually constructed the School's timetable so that we could teach our classes not only during different periods during the day, but we were also in classrooms right across the hall from each other. As one of us was finishing up a particular lesson, the other would stop by and drop off our toddler before beginning their own. This may seem like a small thing to many of you, but to us, it just showed how much he cared about us and our family.
The Gareth Jones Memorial Bursary is a fitting legacy for this icon, allowing motivated young people to access to an outstanding education, in the name of someone who was such a great role model to so many. Please join us in supporting this bursary.
With best wishes,
Scott & Lauren Taylor
Donors to date
Anonymous (5)
Maria Anderson
John Black '76
Anita Blackwood
Phil Brown '66
John Campbell '75
R. Brian Cartwright '86
Benoit Chapdelaine '97
Diane Chapman
Doug & Ann Closs
John Cox '75
Pam & David Dew
Greg & Lana Eaton
Michael Ebsary '80
Kim Edmonson '77
Ainslie Ellis '96
Steph Feddery '93
John & Alda Futhey
John & Dorothy Geale
John Gibb-Carsley
Peter Goering '77
Andrew Gregg
Suzy & Campbell Hall '89
George Holmes '76
Ross Holt
Gillian Jones
Peter Kedwell
H. Bruce Kennedy '66
Stephen Kriter '85
Michael Lebovic '74
David de M. Marler '71
Chris Matthews '77
Hugh Mitchell
Carole & Malcolm Mitchell '75
Robert & Beverley Mulder
Richard & Joanna Nanka-Bruce
Paul Richardson '81
Les Robling
R. George H. Southey '75
E.G. Staunton
Neil Stephenson '80
T. Michael & Carol Stevens
Richard Talbot '82
Harry Taylor '79
Scott & Lauren Taylor
Larry Thornton
Peter Ward '71
C.E. Ted Wright '97
Rodger & Louise Wright
Joan Zalacain '94
---
Make your gift today
Gifts can be made at www.tcs.on.ca/donate, or by calling the philanthropy & alumni office at 905-885-1295. If you have any questions regarding this project or how to make your gift, please reach out to us at alumni@tcs.on.ca.