The Junior School at Trinity College School is a day school for students in Grades 5, 6, 7 and 8. It is located in historic Boulden House which sits on the north side of the School's beautiful 100-acre campus. The staff and faculty at the Junior School work diligently to ensure the best educational experience for each child, providing diverse opportunities for personal, social, emotional, physical and intellectual growth. In a small, supportive and challenging environment, faculty motivate the students to explore their strengths and opportunities, in turn fostering character, confidence and individual achievement. It is also in the Junior School that students develop the requisite skill set to meet the expectations of Trinity College School's Senior School.
Junior School students are active participants in academics, arts, athletics and co-curricular activities and come to Trinity College School from Port Hope, Peterborough, Whitby and many other towns and cities within the Northumberland and Durham regions. TCS students embrace the opportunities provided inside and outside of the classroom; faculty work closely with students to nurture a solid sense of citizenship, good study habits, critical thinking and sound observation skills. Teachers are committed to the students and their parents, forming strong partnerships which serve as the basis for learning and growth. Communication with parents is of vital importance.
The essential ingredients of a TCS education are: academic vigour, co-curricular breadth and attention to the wellbeing of the whole person.
To learn more about the Junior School, please book a tour and read our parent testimonials.
Testimonials
"Darcy spends over 2 hours a day in transit in order to attend TCS and she wouldn't change it for anything - we cannot wipe the smile off of her face! The experiences and opportunities that Darcy has been provided at TCS are top notch. The support and encouragement that Darcy has received from staff and students, alike, have truly resulted in an increased confidence, as she successfully navigates the challenges she encounters. It is fantastic to see that her hard work is matched by the faculty, and this has resulted in growth, both pedagogically and personally."
Testimonials
"When we were relocating from England, TCS was the reason we settled in the local area. We desired the best pedigree of school for academics and extracurricular.

Our daughter started Grade 5 in September 2018. TCS continues to exceed our every expectation."
Testimonials
"It is hard to put the right words to how grateful we are that Sara has been fortunate enough to attend Trinity these last few years.

Our daughter has thrived at TCS due in large part to the positive, caring and energetic guidance by the teachers and staff at Trinity College Junior School. TCS has helped Sara navigate her junior school years by encouraging her growth in academics, personal development, sports, compassion and leadership."
Testimonials
"After having two sons in the Junior School, we particularly valued all of the diverse opportunities that were available to them - in the classroom, in the sports realms, in leadership, and in the arts. They became more well-rounded young men because of their time in Boulden House. We also appreciated that the teachers got to know them as individuals - recognizing their strengths and helping them improve in their areas of weakness. Finally, the emphasis on character development and on being a good person in your daily interactions was invaluable, particularly for adolescents who are still finding out who they are in this world."
09/29/2023

Beautiful weather. The first full week of autumn. Nature field trips. New land acknowledgement. You couldn't ask for a better week to learn and connect with the land and nature. In fact, this week has provided all of us (teachers included!) with opportunities to reflect, engage and explore the diverse opportunities provided both inside the classroom and outside of it. Firstly, our Grade 5 and 6…

Read More
---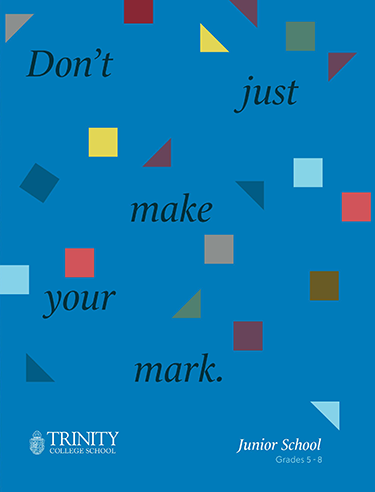 Junior School Viewbook
Imagine an educational environment that provides academic rigour while supporting social-emotional development. A setting that instills healthy habits and universal values while challenging students to think critically and independently. A community that embraces every student's individuality while supporting them with care and compassion as they realize their full potential. It is in the Junior School at Trinity College School where all of this and more is possible! Ready to learn more?
Download
Life in Boulden: A Handbook for Junior School Families 2023-2024
Life in Boulden: A Handbook for Junior School Families has been produced to inform families about life in Boulden House, the historic home of the Junior School at Trinity College School. Read on to learn more about the daily schedule, offerings, processes and expectations of our dedicated Junior School for Grades 5-8...
Download